If you decide against installing your own pool fence, the other option is obviously to have the product professionally installed. This is an attractive choice for a number of reasons, even for people who are handy with a tool box. For one thing, you probably haven't installed a pool fence before, so turning the job over to an experienced pro is wise. Also, you may not have the space available in your schedule to complete the work in a timely manner.
So, if you do decide to hire a pro rather than doing this work yourself, what should you expect? We answer that question in the content below.
How Much Will a Pool Fence Cost?
It would be great if we could tell you exactly how much this installation project will cost. Of course, that is not realistic. The costs are going to vary from project to project based on a number of factors. Those factors include the following –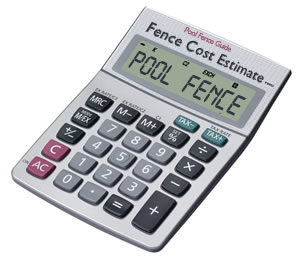 Length of fence – Obviously, a longer fence is going to cost more to install when compared to a shorter run. That said, as the length of fence increases, the price per foot should decrease.
Elevation changes – Is the area around your pool flat, or will the installation need to move up and down? A job that changes elevation is going to be more time consuming, and more expensive, than a flat install.
Number of gates – In addition to the extra cost of the gate itself, there is also installation work to be done around a gate that is more difficult than just installing a long run of straight fencing. Of course, most pool fences are going to have at least one gate, but those with two or more will add to the installation price tag.
Install medium – Will the fence be installed into concrete or dirt? The installation costs differ depending on if the fence install will require extra support footings and metal sleeves that drive up the price of a mesh pool fence.  The cost of an iron fence is also dependent on whether it is going into dirt, across a paver deck, or on top of concrete.
Location – As with everything else, pool fence installation is going to cost more in some parts of the country than others. The price in your area will be influenced by the number of contractors that do this kind of work, their availability, environmental differences, the local economy, and more.
The best thing you can do is obtain a quote from at least a couple different installers before settling on one to do the job. By getting a few bids, you can compare cost along with other important factors like timeline, experience, and references.
How Long Will It Take to Install my Pool Fence?
Again, this is a question which is going to have an answer that varies depending on the specifications of the project. However, as a good rule of thumb, you can plan on two or three hours for a fence that is 100-feet long. That is one of the big advantages of working with a professional contractor – it is unlikely that you would be able to complete the work in such a brief period of time. While that is a good starting point in terms of timeline, there are plenty of complicating factors like the type of ground and possible elevation changes which could lead to delays.
Average installation time
| Type of Install | Lead time | Install time |
| --- | --- | --- |
| 100 feet or less of mesh pool fencing | 1 to 2 weeks | 3-4 hours |
| +100 feet of mesh fence | 2 to 3 weeks | 4-8 hours |
| Iron fence (less than 100 feet) | 2 to 3 weeks | 3-6 hours |
| Iron pool fence greater than 100 feet | 3 to 4 weeks | 1 or more days |
Questions to Ask Your Pool Fence Specialist
As a homeowner, you probably don't interview contractors very often – if at all. Therefore, it can be little intimidating to go into this process. In order to pick the right company for the job, you need to ask the right questions. To help toward that end, we have listed a few key questions below.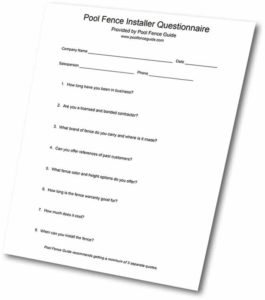 How long have you been in business? This is a good place to start. If you are talking to a company which has been in business for many years, it is a safe bet that they know what they are doing. It is hard to stay in business for long unless you are offering good value and reliable service.
Are you licensed and bonded? This is a key question. Ask for their license information so you can confirm that they are in good standing. There is no excuse for a contractor to not have the appropriate licensing – if anyone tries to give you an excuse on this point, just move on to the next candidate.
Where is the fencing made? Ideally, you will be able to find fencing which has been made in the United States. Fencing that has been imported is often of a lower quality, and the savings you experience simply aren't worth the risk of using something that isn't up to standard.
Can you offer references? Assuming you are given a list of references, follow up with at least a couple of them to check on the ability of each company to complete the work properly.
Don't be too intimidated to ask the tough questions when trying to pick a contractor. Not only will you be spending your money on this project, but you will also be trusting the safety of those around your pool to the installation work. it is important to make the right decision, so ask the hard questions and pick the contractor with the most to offer.
A Word of Warning 
Before we finish, it is important that we offer up a quick word of warning – the lowest bid is usually not the one which should be the winner. It will be tempting to just take the lowest offer for this work, but that may leave you with a company that is not qualified to handle the job and a product that is unsafe. Why would this business offer you such a low price if they have all the knowledge and experience of the competition? They wouldn't. The cost of the project should be a factor in your decision, of course, but you need to weigh all of the other considerations as well. Do not put your child's safety at risk just to save a few extra bucks. Treat this purchase like an investment, not a inconvenient expense.