Are you are looking to install a fence around the pool at your home? There are a number of pool fence options at your disposal to choose from. Considering the many different types of pool fences on the market today, each possessing its own strengths and weaknesses, can be a time consuming task for anyone new to this type of fencing. Unfortunately, there is no one-size-fits-all pool fence option – you will need to select a type of fence which is best-suited to your needs.
Those who are new to the world of pool fences can use this guide to help get up-to-speed on key features and understand the various pool barrier options to look for when shopping around. At the highest level, these are some options for pool fencing to consider:
Safe & Durable – Obviously, you want your pool fence to be strong. It needs to keep children and animals out of the pool area for safety, so it must be up to the task. Furthermore, it needs to withstand the elements and last for many years while your children are growing up.
Appearance – Most people choose a certain type of pool fence in part because they like the aesthetic that it offers. Rather than taking away from the visual appeal of your swimming pool, and backyard in general, you'll want to pick an attractive fence product that blends right into the décor.
Cost – As with anything else, you will need to think about cost during your pool fence selection process. No matter what your budget may be for this project, you should be able to find a type of pool fence to fit your needs.
To give you a better idea of the types of fences you will find on the market, let's dive right into some of the biggest players in the space.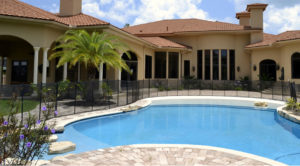 Option 1 – Removable Mesh Pool Fence
There is a lot to like about this popular option. For one thing, this type of fencing is usually easy to install, and they are relatively affordable as well. Also, as the name would indicate, the fence is removable when it is not needed, such as when there will be no children around.
The amount of security you get from this type of fence depends on the quality of the product. A Mesh pool fence option can be quite safe when it is well-made and properly installed. However, cheap mesh fencing is prone to breaking, and may not offer the protection you want or need.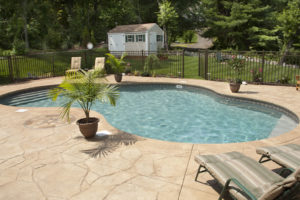 Option 2 – Wrought Iron Pool Fence
Cost is not going to be the main selling point here, as these kinds of fences can be rather pricey. On the plus side, you will get a tremendous amount of security. Wrought iron fences tend to be extremely strong, and many people love the way they look as well. Obviously, a wrought iron fence is not going to be removable, so keep that limitation in mind.
Other Types of Pool Fence Options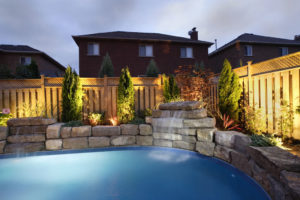 While removable mesh pool fencing and wrought iron fencing are leading contenders, there are other pool fence options which will vie for your business as well. For example, glass fencing, chain link fencing, and wood fencing can all be used as a pool enclosure. Although these alternatives are not as popular, they are still viable, attractive options for you to consider.
Before you make your final selection, it is a good idea to learn more about all of the available pool fence options. Feel free to explore our site for information on this topic. Once you have done your research, you can make a choice that will leave you with a quality, attractive, reliable pool fence for many years to come.