When most people think about installing a pool fence on their property, they think first and foremost about protecting kids. And, of course, this is a very important function of pool fences. Kids love pools, and they need to be kept safely away from the water until they are being supervised by an adult.
With that said, pool fences do more than just keep kids away from the water. In addition, they can also be a valuable tool in protecting your pets. Millions of people across the country have beloved pets which are considered to be a member of the family. If you fall into that category, it is a wise choice to add a pool fence in order to give your pet the protection he or she deserves.
Don't Assume – Consider a Pet Fence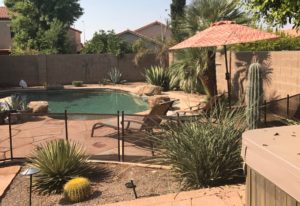 If you picture a dog in a swimming pool, you probably see it paddling happily from one side to the other in your mind. Sadly, that is not always how it works. Some dogs can't swim effectively enough to keep themselves safe in a pool. And, even if they are able to paddle around, they might not be able to find a way out. This is a particular problem for small dogs. Don't assume that your dog will be able to get in and out of the water safely, because that simply might not be the truth. By keeping your pet away from the water altogether, you can prevent a terrible accident from taking place while you aren't watching.
Age Affects Dogs Ability as Well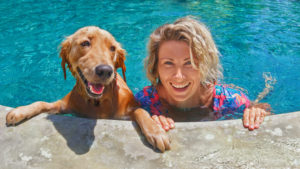 We all know that we need to provide care to seniors, as they are often unable to protect themselves physically as they would have in their younger years. This same concept applies to dogs. If you have an older dog living in your home, the pool in your yard may be a bigger hazard today than it was years ago. Even dogs who were once strong swimmers and loved to play in the water could be at risk as they age. A pool fence can do a great job of protecting older dogs from wandering in to a dangerous situation.
Pet Safety Concerns around the Pool
In addition to watching out for the safety of the dog, you can also keep your dogs away from the pool as a manner of protection for your children. If you have dogs which like to play in the water, and are aggressive with the kids, a dangerous situation could develop. By keeping the dogs on the outside of the pool fence while your kids are swimming – supervised, of course – you will be able to avoid the dog/child interaction which can be dangerous in the water.
It's Not Just About Safety Fence for your Dog
The safety of your pets will probably be your top priority with regard to a pool fence, but it is not the only consideration. You also can benefit in the form of a cleaner pool when you keep pets out. Even just a single dirty dog can make a mess of your previous-clean pool water. Letting your dog track dirt into the pool will make it harder to keep clean on a day-to-day basis. Plus, once the dog gets out of the pool, it may wish to take its wet fur into the house. Using a pool fence as an effective pet barrier will help you to keep both your pool and your home cleaner.
For pet owners, installing a quality pool fence is an easy call. Pool fences offer many more advantages as well, but even their ability to protect your pets alone is enough of a reason to add one to your property. To do the right thing for your pets and your family as a whole, consider installing a pool fence in the near future.