No matter what kind of pool fence you select for your yard, it is going to need some basic care and maintenance along the way. As a homeowner, you already know that pretty much everything on your property needs attention from time to time. Your mesh pool security fence is no different. Fortunately, the care and maintenance needs on this type of safety product are minimal, so this chore isn't going to take up a big chunk of your Saturday mornings.
Keeping Your Mesh Pool Security Fence Clean
The key to giving your mesh swimming pool fence the care it needs is to follow the manufacturer's directions exactly. The company who made the fence knows best how to care for it, so it would be a mistake to ignore their advice. Review the instructions as soon as the fence is installed and write them down somewhere convenient. As long as you keep up with your duties on the care and maintenance of your mesh pool fence, the fence should serve you well for many years to come.
Maintenance of Mesh vs Aluminum Pool Fences
It is important to note the difference in a mesh vs. aluminum pool fence from a maintenance standpoint. The care of these two products is quite different, so you shouldn't assume you can just translate one across to the other. Again, this is where the directions from your manufacturer will come in handy. Stick with what you have been told will work and your maintenance should go off without a hitch.
Caring for your mesh pool security fence might not be the most exciting part of owning a pool, but it is something which needs to be done. Once you get the hang of it, each cleaning should only take a modest amount of time. Add this task to your calendar and keep your pool fence looking great for many seasons ahead.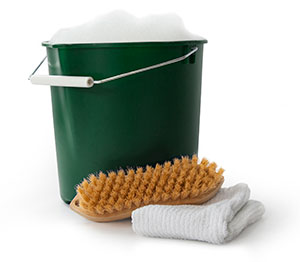 When it comes to cleaning your mesh pool fence, turn to good ol' trusty soap and water to achieve best results. Use a mild dish soap and mix in a bucket of warm water. A soft bristle type brush works great to penetrate in-between all the mesh holes. If you don't have such a brush at your disposal, a hand towel or similar sized rag will do the trick; albeit slightly less cleaning power.  Avoid any abrasives such as wire brushes, cleaning agents with chemicals or grit. These will deteriorate your fence if used consistently; possibly damaging your fence beyond repair. Remember, mesh fences are fabric and should be treated as such. Lastly, avoid the temptation to grab the power washer to perform a quick cleaning of mesh fence.  Without extra care, you will leave streaks (lines of color variations) in the fence mesh fabric which can be visually unpleasant. Furthermore, too much water pressure against the mesh fabric can break down the fibers; weakening the fence to a point where it will rip or tear more easily.
If you opted for aluminum fencing instead of mesh, notice that some of the cleaning methods are different. You can be a bit more rough on aluminum fence without worrying about damaging it. Aluminum is a more sturdy material, thus the reason mesh fence poles are made from aluminum. Therefore, using a power washer or light cleaning agents on these types of fences is usually safe to do so. An aluminum fence will typically be powder coated or painted. Clean vigorously but not the point of stripping off the paint. The paint adds a layer of protect to the fence, weakening that surface is definitely counterproductive to your cleaning efforts.