One of the best ways to make any key decision is to come up with a list of pros and cons. What are the advantages of using a particular product and what are the disadvantages? When you list these points out side by side, you can usually make an informed decision in short order. It is only when you let various facts float around your head that you are likely to get confused – write things out, look at them objectively, and make a clear choice.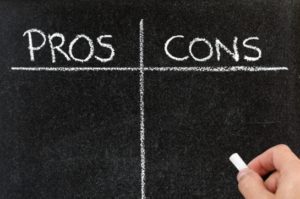 This is exactly what you should do when picking out a pool fence. By listing the pros and cons of a mesh pool fence, you can decide whether or not it is the right product for you. There are plenty of points to including in your mesh pros and cons, so it won't take long to assemble quite a long list. Things like price, performance, color variety, and more often end up in the pros column for this popular product. For other people, the look of a mesh fence may be seen as a con, as they may prefer the appearance of wrought iron. Put together your mesh pros and cons as you see best fit and then decide how to proceed. To that end, we've given you a head start with some of the more commonly known reasons for and against.
To Mesh, or not to Mesh, That is the Question
| Pros | Cons |
| --- | --- |
| Fence is removable when not needed. Take it down, and put it back up in a matter of minutes. | If installed incorrectly, safety could be compromised allowing a child to obtain access to the pool. |
|  Reasonably priced compared to other pool fence options. |  Mesh fabrics will deteriorate over time more quickly than other non-fabric fence types. |
|  Streamlined design that does not take away from existing backyard and pool aesthetic. |  Mesh fence gates can be finicky, coming out of alignment  and potentially not self-latching. |
|  Transparent mesh material is see through so as not to block view of pool and backyard landscape. |  Require more maintenance than other fence styles in order to maintain strength and appearance. |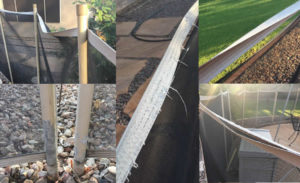 Of course, when you are done with your mesh pros and cons, it will be necessary to compare that list to a similar list with regard to iron pool fences to help determine which pool fence is better. This is really where you will be able to start to make some decisions. If price is a big factor for you, for example, you'll probably like what mesh pool fencing has to offer. The process of developing pros and cons shouldn't take long, and it will lead to a very informed and appropriate buying decision.