Picking the right height for your pool fence is critical. You will want to make sure the height you select meets with your local codes, and that it also provides the security you need for family and friends. A 5 foot mesh pool fence will certainly provide plenty of security, but a 4 ft mesh pool fence may do the job depending on your needs. In fact, some people effectively use a 3 foot mesh pool fence, particularly when it is only pets – and not kids – that they need to keep away from the pool.
5 foot Pool Fence – Code Compliant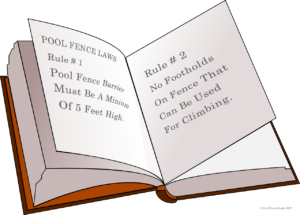 It should be security, rather than style, that is your top concern when picking out the height of your fence. You may prefer the look of a 4 foot mesh pool fence, but it might be that a 5' mesh pool fence is a better fit for your situation. It might be necessary to go up to five feet in order to meet code in your area, or you might have older children who need to be kept away from the pool at certain times. Aesthetics should play into this at some point, but only after all security issues have been considered.
Standard 4 ft Mesh Fence
You will find that a 4 ft mesh pool fence is the most common selection in terms of size. For most people, this is the height that balances the needs of security with the right visual appeal. Of course, there is nothing wrong with the look for a 5 ft mesh pool fence, especially if you pick out just the right color for your landscape. Once you have taken all of the relevant factors into consideration, you should have no trouble deciding exactly which mesh pool fence height is going to be the right choice for your situation.
3 Foot Pet Fence for Pool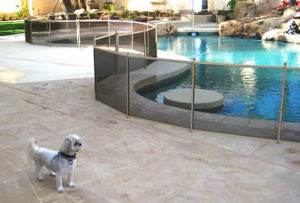 A useful option for pet owners, who don't anticipate having any children around the pool, is the 3 foot tall mesh pet fence.  This fence height is especially good at keeping dogs out of the water with the added benefit of not obstructing your view of the pool and landscape. Furthermore, being that it's only a 3 ft mesh fence, there is less material which means the fence is a bit lighter in weight making it easier for older adults to remove the mesh fence when desired. One concern worth mentioning is the durability of a mesh fence when they come in contact repeatedly with a dog's claws. Mesh fence, from a well known distributer, is tough. However, abrasions, tears, and holes will occur over time if your dog continues to scratch at the material no matter what hight your fence is; be-it 3 feet, 4 feet, or even 5 feet tall of mesh fence.  Consider an alternative material such as iron if your pet is overly obsessed with getting into your pool.