As you are picking out your mesh pool fence, you are going to quickly realize that the color of the fence is one of the most important decisions you'll have to make. The bulk of the fence is made up of the mesh material, meaning the color you select is going to be front and center. Take some time to review the many different mesh pool fence colors on the market before selecting the one you think will be best for your setting.
In addition to the mesh itself, you will also need to think about the color of the poles. You may wish to have everything the same color – a monochrome effect – or you may decide to have one color for the mesh and another for the poles. Either way, the best thing you can do is to consider a variety of options before making a purchase. Acting quickly without checking out a variety of mesh pool fence colors could lead to a decision you will regret later on.
Black Mesh Pool Fence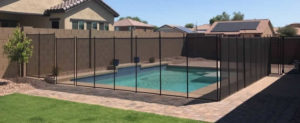 Black is one of the most-popular colors for mesh pool fencing. In many ways, you really can't go wrong with black, because it is going to work well with anything else you have in your landscape. Already have a table and chairs on the patio which feature their own colors? No problem – they are sure to pair nicely with black. If you are having trouble settling on a color, opting for a black mesh pool fence is the safe choice.
Brown Mesh Pool Fence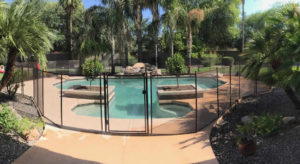 This is another popular, and relatively safe, option. You might have to think about color pairings a little more carefully when you use a brown mesh pool fence instead of black, but brown tends to work well with plenty of other colors. Darker browns are also pretty easy to clean, which is always a nice bonus.
Tan Mesh Pool Fence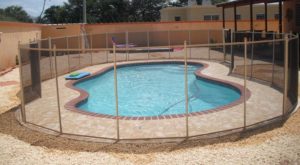 Going in the lighter direction of the brown spectrum, tan mesh pool fences are also commonly found on many properties. These are particularly popular in the desert where they blend nicely with the surrounding terrain. A tan mesh pool fence is yet another neutral choice that can be livened up by the use of bolder colors elsewhere in your design.
White Mesh Pool Fence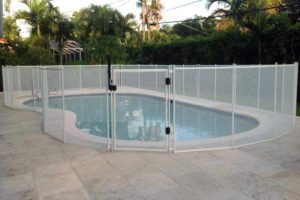 Believe it or not, white is a rather bold choice for your fence. When used in this kind of setting, white is going to stand out as soon as you look toward the pool. A white mesh pool fence is not a conservative choice, but that's okay. If you are hoping to add a notable piece to your pool area, this color of fence may be the right pick. Of course, white can be difficult to get totally clean, so keep that in mind if you feel like the fence may get dirty in its intended location.