It is no secret that mesh and wrought iron pool fences lead the way in this market. If you are thinking of adding a pool fence to your property, you have probably thought first about those two options. But what if those aren't a good fit? Is there anywhere to turn if you simply don't like the look of mesh or wrought iron? Indeed, there is. There are actually a few other options for you to review.
Specifically, there are three other pool fence options we would like to bring to your attention – glass, chain link, and wood. Below you will find a quick description of each of these three categories of pool fences.
Glass Pool Fence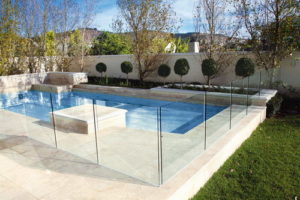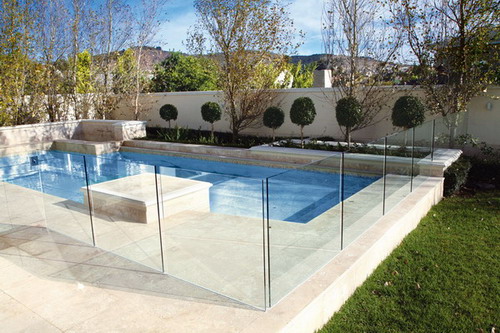 This is the type of pool fence that comes as close as possible to having no pool fence at all. What does that mean? Well, since you can see right through this fence and onto the other side, the visual effect is that there is no fence at all around your swimming pool. This is great in settings where you want to preserve a view into the distance. For example, if you have a waterfront property, you can maintain your great view while still getting the security you need.
Thanks to the process of tempering glass, these types of fences are also extremely strong. You will be able to count on its performance, and it is also a low-maintenance type of fencing. Should you happen to be installing this fence in a windy area, the solid glass will do a great job of breaking up the wind, something that can't be said of other pool fence options (like wrought iron). Glass pool fencing is certainly something that brings a modern look to the property, which you may or may not enjoy. As long as you like the look, this is one to keep on your list.
Chain Link Pool Barrier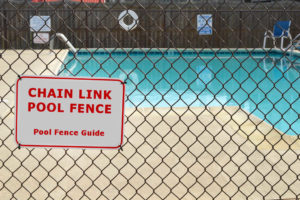 The use of chain link pool fencing is all about affordability. Few would argue that this is the best looking type of pool fencing on the market, but it is one of the most cost-effective. Also, in addition to saving on upfront costs, you can also save on maintenance costs as there is little that has to be done to this product as the years go by.
One of the big concerns with regard to chain link pool fencing is the fact that most chain link fences are easy to climb. You are trying to keep children away from the pool with the use of this fence, but that benefit will be lost if they can simply climb up and over. To mitigate this problem, you may choose to use a smaller mesh to make it difficult to gain traction, or you could use lattice to achieve the same effect. A chain link pool fence isn't going to do much for the aesthetics of your property, but it can help you fill safety needs when used correctly.
Wood Pool Fencing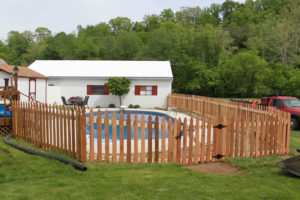 As you already know, wood is a commonly used fence material. In many parts of the country, it is extremely common to see woods like cedar used for backyard fences, for example. However, it is not as popular for use as a pool fence – but that doesn't mean it can't do the job. Before settling on wood, you should be aware of the limitations that it brings to this kind of project.
The biggest concern when it comes to using wood for this job is simply security. It is difficult to design a wooden fence in such a way that it will not be easy to climb. Also, while wood fences are not particularly expensive, they can require quite a bit of work to install correctly. For most people, one of the other material options is going to be a better bet than wood for a pool fence.
As mentioned at the top of this page, it is mesh and wrought iron that lead the way in the pool fence market. That does not mean you have to stick with one of those two choices, however. Should you decide that those are not right for you, it may be time to consider glass, chain link, or even wood. Once you have weighed the pros and cons of all possibilities, you should be able to settle on a pick that will serve your property well.