At first glance, you might not think that 'mesh' would make for a great pool fence. After all, the idea of a pool fence is to keep people safe by keeping them away from the water, and you can probably think of many materials which are tougher, heavier, and harder than mesh.
So why is it that mesh pool fencing is such a popular option? It all comes down to tension. The tension in a child mesh pool fence is what gives the product it's stability, and what allows it to do the job successfully. A mesh fence for pool without tension would simply flap in the breeze – which is not exactly what you need when safety is at the top of your priority list. To ensure that a removable mesh fence has the tension it needs to do the job, it must be properly installed and maintained as the years go by.
How a Mesh Safety Fence for Pool Works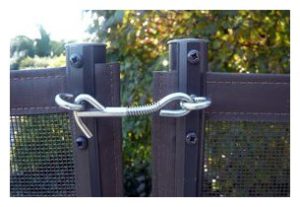 A mesh pool fencing safety system is a relatively simple setup, although it has to be executed perfectly if it is going to work. Basically, a system of poles and latches is used to position the mesh properly and keep it tight. Not only is the tension going to keep the mesh pulled tight, but it is also going to keep the poles for the fence in the ground. Once the tension is taken out of the system – by undoing the latches – the poles can be removed and the entire fence can be quickly taken down.
Without a doubt, the ability to take down this kind of fence is one of the top selling points. The fence can be up and in place when you need safety, and it can be out of sight when you want to be able to use the pool. It should go without saying that you can't simply take down an iron fence in this manner. Those who want to blend security with functionality often wind up settling on a mesh safety pool fence solution.
Anatomy of the Mesh Pool Fence
There are a few parts which make up the overall structure of a mesh pool fence. We have listed those parts below to give you a better understanding of how this product works.
Mesh Fabric – It's probably no surprise that the part which is in the name of the product is the first one on our list. The body of the safety mesh fence is made from a weaved mesh material that has a binding edge (border) around the outside to hold it together.
Poles – Even with the best mesh on the market, you aren't going to have much of a fence unless you have quality poles. Poles need to be strong enough to resist bending or breaking when placed under pressure, as can be the case while in use. There is not only the pressure of the tension system to be concerned with, but also the pressure that can occur if someone pushes on or falls into the fence.
A Gate – You don't want to take the entire fencing system down each time you go to use the pool, so mesh pool fencing will include a gate. As is the case with pretty much any kind of gate, there are hinges, latches, and springs involved in this part of the product.
Other elements of child safety mesh pool fences include the sleeves which accept the poles when they are placed into the ground, the section latches, and the anchors (for attaching the end of the fence to a wall).
Picking the Right Style of Removable Fence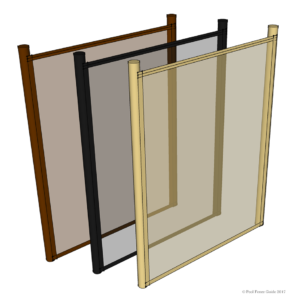 Since a pool fence will be a major part of the décor on your property, it is important to choose a mesh pool fence style that will fit with your tastes. The two major pieces of the puzzle here are size and color. With regard to color, you will be able to pick from a number of common color options such as black, brown, and gray. You could go with a monochrome look to keep everything uniform, or you could outline the mesh with different colors poles.
As far as size is concerned, you will want to pay attention to local codes above all else. The standard mesh fence for a pool is going to be 4-feet tall, but there are taller and shorter options available depending on your needs. If you only are trying to keep pets out of your pool, and you won't have kids on the property, a shorter 'pet fence' may be the best option.
Simple Care for your Mesh Pool Fence
One of the advantages of a mesh safety fence for pools is the relatively simple care and maintenance process. The fence itself can be washed with a basic solution of soap and water. It is important to wash the fence periodically, as leaving it dirty can cause degradation over time. Additionally, you may want to take the fence down from time to time, just to give the poles a cleaning and to blow out the holes.
Mesh pool fences are a leading option in this market for a reason. They are relatively affordable, they are attractive, add a safety barrier for your child, and they can be taken down when necessary. If you are getting ready to add a pool fence to your property, don't make your final decision before at least considering this type of product.